Additions & Remodeling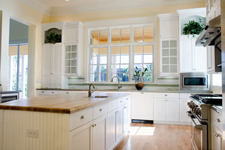 Do you need more space? Is your kitchen looking warn out? Is your bathroom unsafe? Would a deck or a 3-season porch make your home more enjoyable?
Northwoods Remodelers can help you with all of your design and remodeling plans, when it comes to adding on to your home. Room additions encompass expanding your home's existing footprint to accommodate entirely new rooms, "bump out" existing rooms to improve functionality, finishing an unfinished space such as a basement, or literally raising the roof to add living space in a second floor attic space.

Each house is different with a different foundation and structural requirements, as well as having a different style with unique characteristics and that is where our Northwoods remodeling contractors can help. From the exterior covering to the interior wood trim Northwoods Remodelers can do it all!
How Safe is Your Bathroom?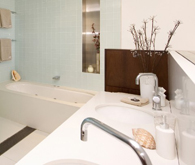 More accidents happen in the bath than in any other room in the house. As much as 70% of all home accidents happen in the bathroom. Redesigning your bathroom for safety, comfort and independence is one of the best returns on investment and provides the greatest safety and comfort.
Adding a new bathroom will often recoup at least 90% of your investment when you sell your house, while remodeling an existing bathroom will usually pay back around 80-90%. But as good as these returns are, think about the pleasures you'll get from a beautiful and safe bathroom until the time comes to sell.
Ask Northwoods Remodelers for advice on adding value to your home, while making it safer.