Windows & Doors
Article Index
Page 1 of 2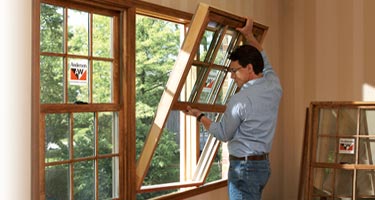 Old wood windows, single pane glass windows or poorly hung windows and doors can be a major cause of energy loss. Every homeowner has experienced at one time or another, the cold blasts of winter seeping in around icy windows that are not insulated and sometimes won't lock or even shut completely. Old wood windows can be a maintenance nightmare as well. Replacing these energy hogs with vinyl, double-pane, low E windows can make a world of difference in not only energy savings but in noise reduction and lowered maintenance costs.
Northwoods Remodeling is an authorized Andersen Windows dealer and offers a wide selection of replacement windows and doors. Double hungs, casement windows, picture windows, bow and bay windows, garden windows, and sliding windows are available, as well is entry doors, patio doors and sliding glass doors.
If you're thinking about replacement windows or doors, there's no reason to wait. The benefits start immediately. From enhancing your home's interior to adding to its curb appeal, new windows and doors transform a home from ordinary to outstanding. What's more, they provide one of the best returns on investment of any home improvement project. At Northwoods Remodelers, we can install any type of window and have years experience doing so.
Our goal is to fit not only your openings, but also your budget. With so many replacement windows and doors on the market, choosing the right one for your home can be a challenging project on its own. Maintenance, insulating value, appearance, fit, ease of cleaning and durability, are only a few of the many important considerations. Therefore, we will gladly assist you with any further decision to fulfill your needs.